Selling your home yourself is easy with The Property Coach
Save money
Avoid hefty real estate agent commissions and fees
Stay in control
You decide how and when to sell using the best method for you.
Easy & proven system
We'll guide you through the various steps of selling your own home
Supportive, experienced coach
We'll provide all the coaching you'll need
Everything you need to sell your property yourself…
Advice on the most appropriate method of sale
Advice on how to best present/dress your property
Arranging of professional photography of your property
Arranging of 'For Sale' sign, A4 flyer designs, proofing and delivery
Professional scripts for online advertising and marketing material
Full coaching on running open homes + open home signs
Full coaching on responding to queries received by prospective purchasers
Full coaching on compiling a property information pack
Plus much, much more…
Get a FREE consultation today!
Contact us for a free consultation (in person or on the phone) where we'll discuss how we can help you sell your property, and answer common questions like:
What's the best way to sell?
What legal docs do I need?
How should I present my property?
How should I market my property?
How do I run my own open homes?
How do I best negotiate?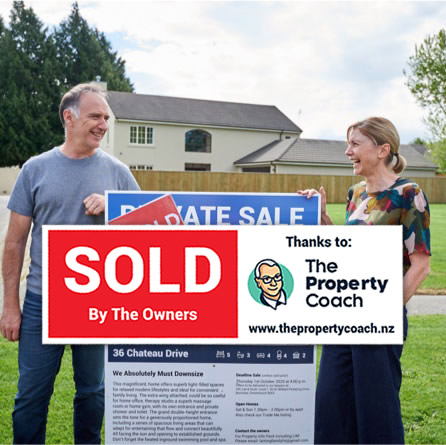 Customer stories
Don and Carole had never sold a property before. We were able to guide them through a marketing and sales process and show them how to present their home in a professional way. After just two weeks of marketing they received a pre-deadline offer which culminated in a multi-offer situation and a final price well over their expectations.
"We will certainly be using Andrew again and would urge anyone thinking of selling privately to contact him. He makes it so simple and easy and really is with you all the way." – Don & Carole
Meet Andrew
Andrew comes from a family of real estate agents and has been in real estate and property since 1991. He's been an agent himself all over the world, including heading up a sales team in the West End of London. Having been back in New Zealand for several years now, he's bought and sold countless properties as well as developed a particular knowledge of the Auckland & Christchurch property markets.
Andrew's always had a passion to help people sell their homes and began developing a 'do-it-yourself' system several years ago – which has evolved into The Property Coach.